What does the residence hold?
The investment covers more than 900m2 of surface area. The ground floor is designated for daily activities and relaxation.
Spacious, nearly 40-meter large foyer with representative staircase made by Metal Efekt co. which leads to home office and library and a comfortable living room with a view of the garden. The living room is open to dining room and kitchen – they are divided by symbolic ornamental rhythm of separate columns. This part of the house also includes a breakfast room and the so-called dirty kitchen. The wing will be equipped with an additional entry for housekeepers and a garage for 3 cars with technical background. All the carpentry and joinery work was carried out by Gierszewski co.
The second wing includes a relaxation zone with fitness room with a view of the garden and an exit to terrace, sauna and bathing room with a jacuzzi.
On the first floor there are 4 very comfortable and spacious bedrooms, each with its own bathroom and walk-in wardrobe and a balcony. The loft can also serve as a recreational area.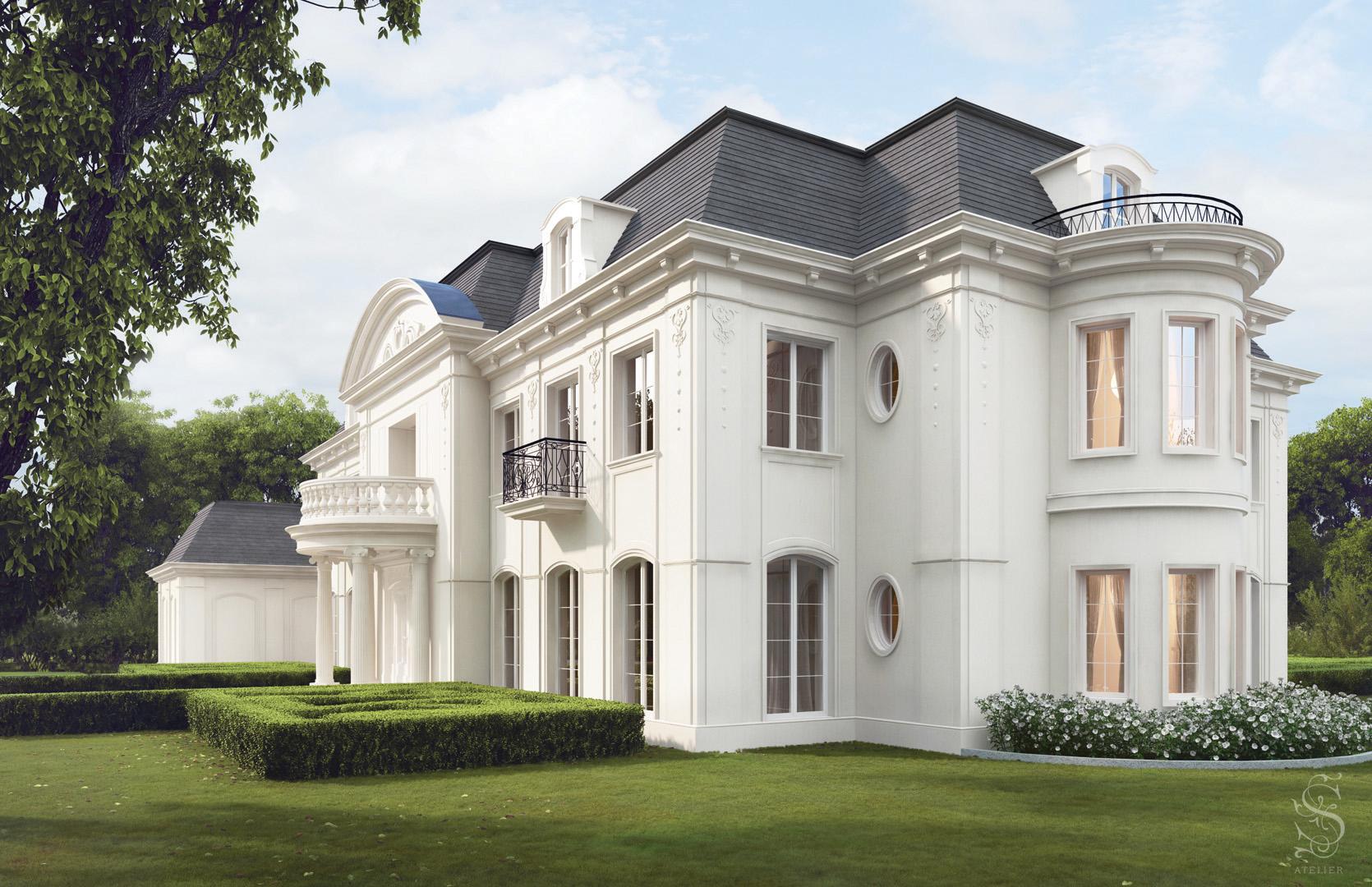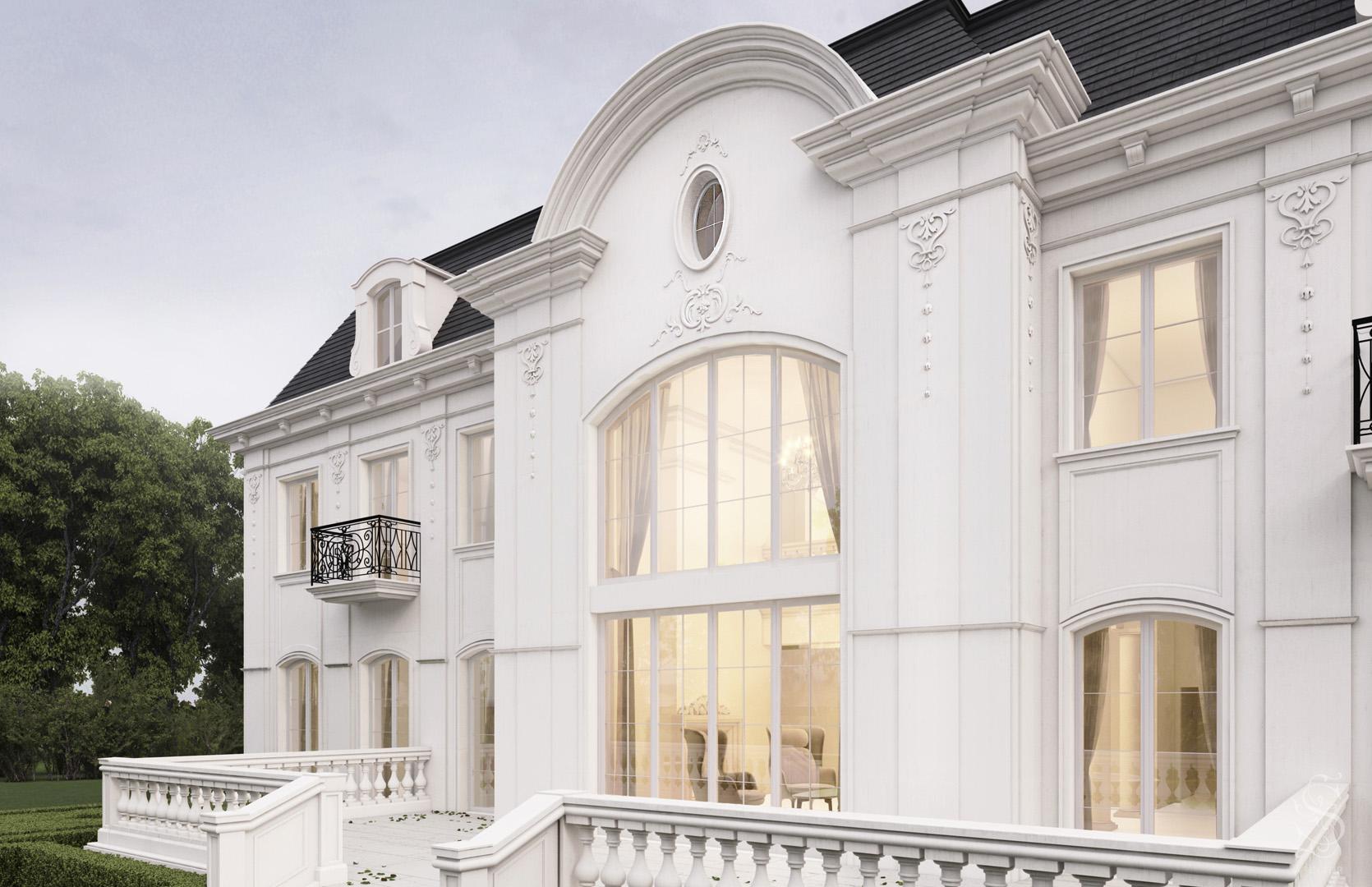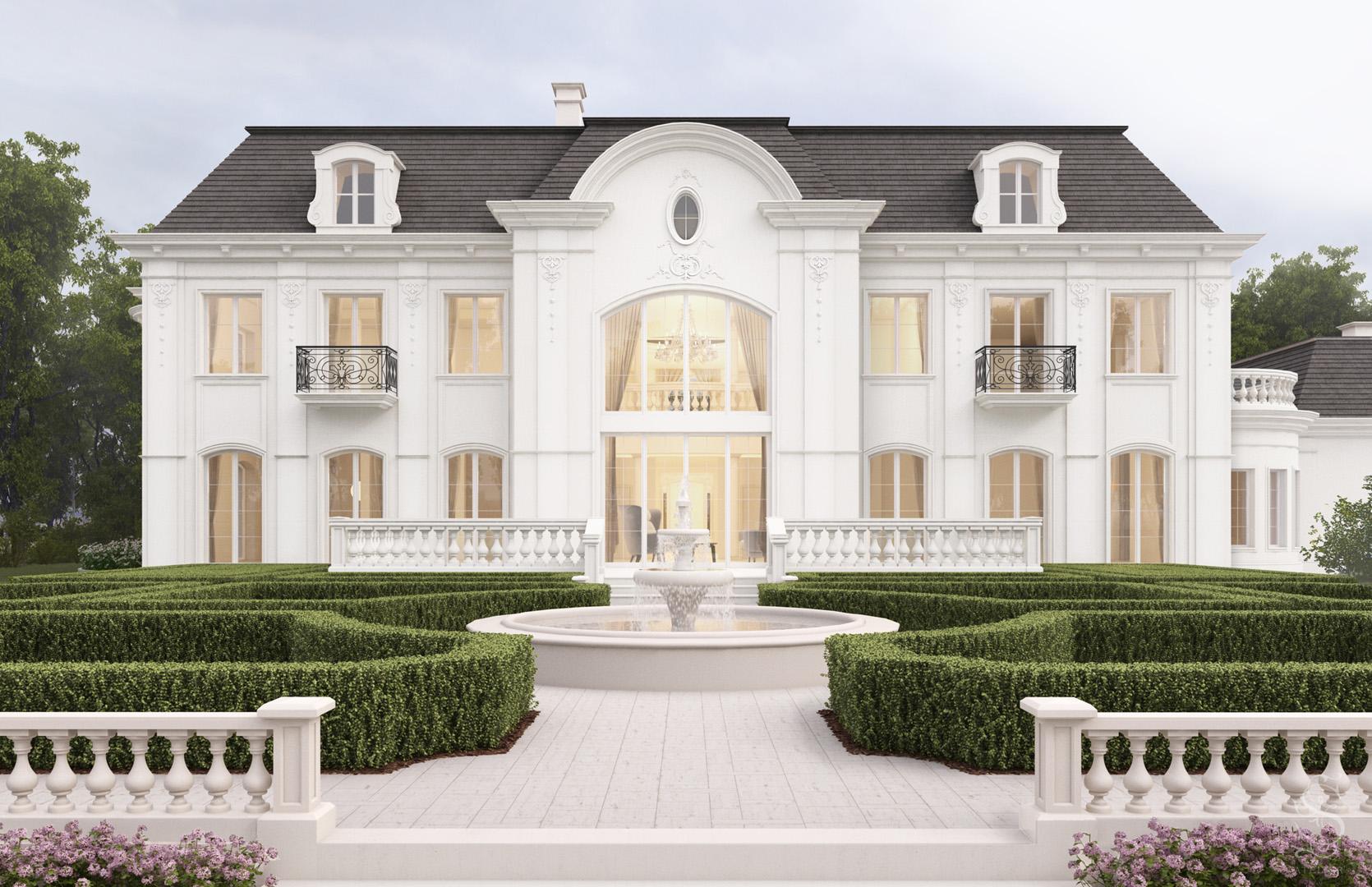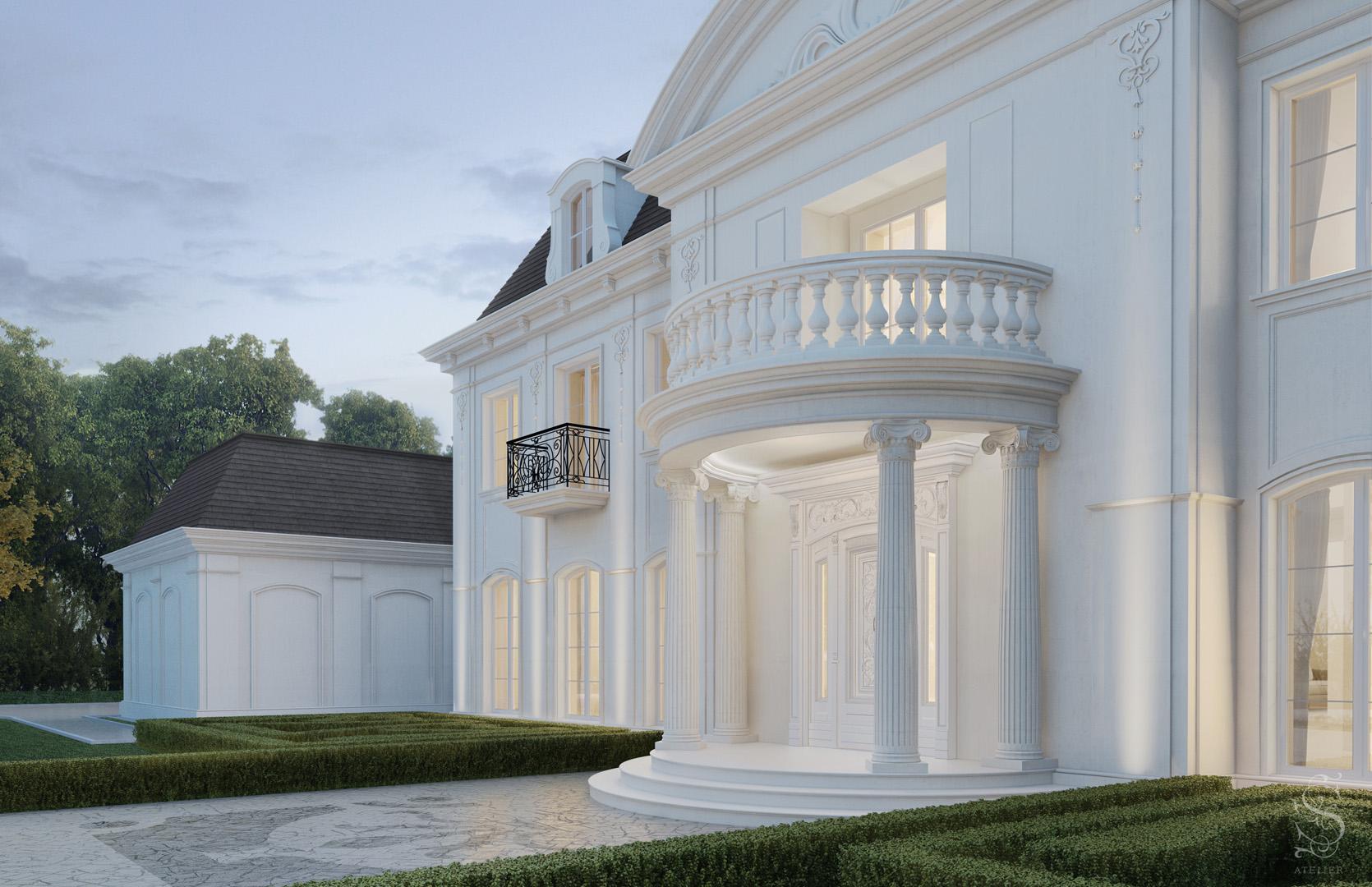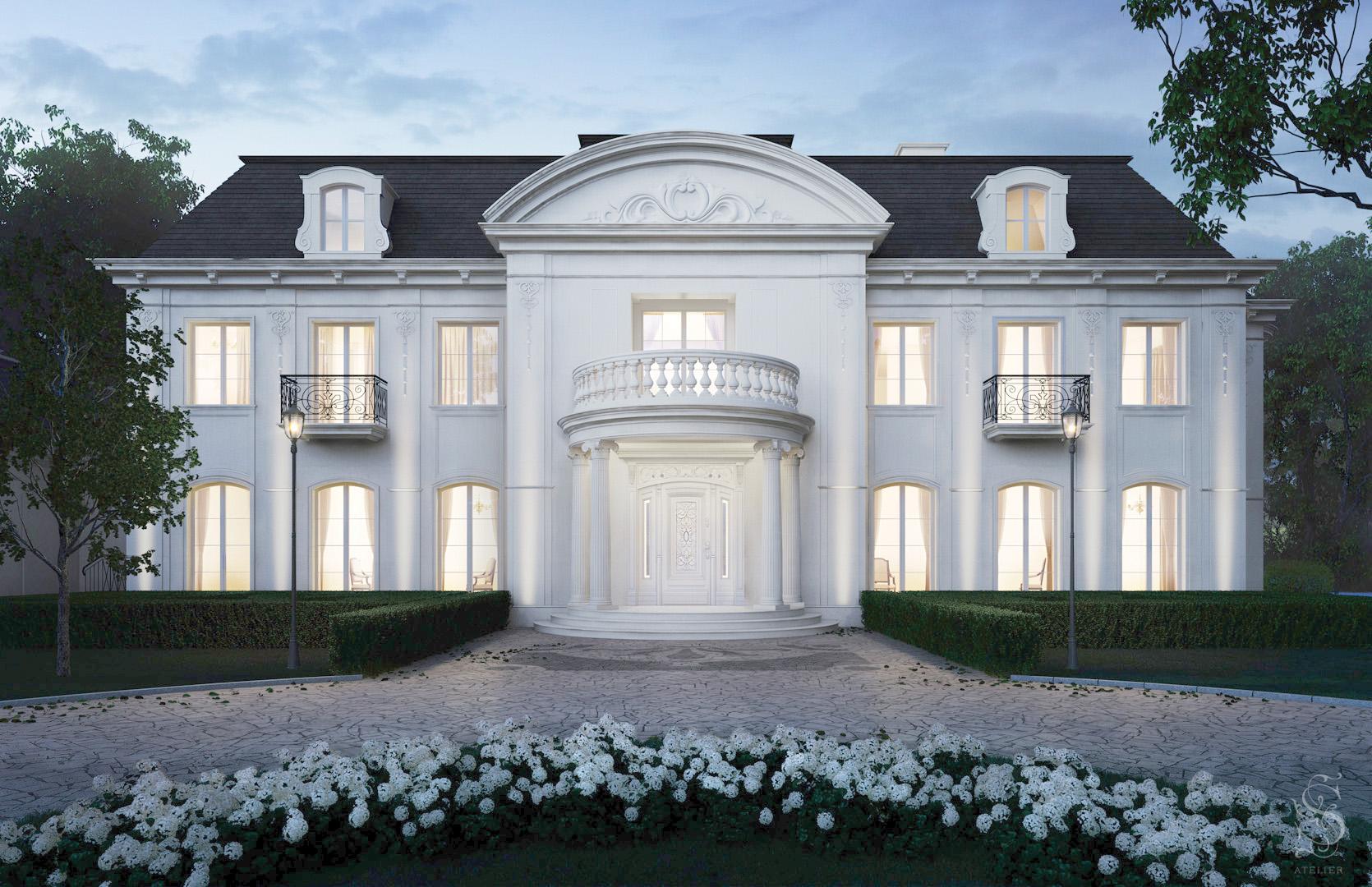 What technology was used to design it?
Depending on investor's preferences, the design may be concrete, brick or sekelton one, with or without a basement.
The elevation made of stone will be interspersed with a myriad of varied decorative forms designed by Rafael Decoration. They will include ballustrades of wrought iron, cantilevers, cornices, richly ornamented entry and door, half moon bay window and the stone adorned balusters and columns, or finally avant corps from the garden side with glass to the floor height crowned with elliptical window. All forged components have been designed and constructed by Efekt Metal co.
We can see clear symmetry in the elevation, main entry is stressed by corners and avant corps.
The skylight on a circular layout placed over the entry foyer will make the interior stand out.
What materials were used in finishes?
We offer classic, stylized interior finish, with stucco moldings, decorative trims or finished wood. Floors will shine with Baront parquet or stone and richly decorated ceilings with facets and rosettes from Rafael Decoration will make the design complete.
What solutions have been introduced in the area surrounding the residence?
The building is best presented in a large, flat plot or with a low slope. This will allow you to build exit to the garden via terrace. In the case of a plot with a slight slope, the garden will be shaped with terrace descent.
The residence has been conceived as the heart of the garden like a park with strongly emphasized symmetry.