What does the residence hold?
The ground floor is situated horizontally, but the first floor is dynamic with avant-garde lines. The investment is composed of 3 cubes placed on one another. Two of them are separated by a way over which the third cube has been suspended. The two cubes, which are the residential part, are connected by an internal staircase. We can enter this part through the elegant, spacious hall.
The daily zone consists of a living room open to a spacious kitchen and dining room for up to 14 persons. There is also a relaxation area which includes a luxurious SPA with a sauna and gym.
On the second floor, there are bedrooms: master bedroom with a bathroom and walk-in wardrobe covering almost 55 m2. Next there are two comfortable bedrooms for children, with their own bathroom. Going forward, we will enter the recreational space – games room, playroom for children or home theater.
The third – highest cube is a technical facility with 3-space garage, the studio and autonomous living room. For the guests, there is a seperate representative daily zone with a kitchenette, a separate bathroom and a comfortable bedroom with a dressing room.
The characteristic of this building are numerous glazed windows, balconies and terraces which provide contact with the surroundings.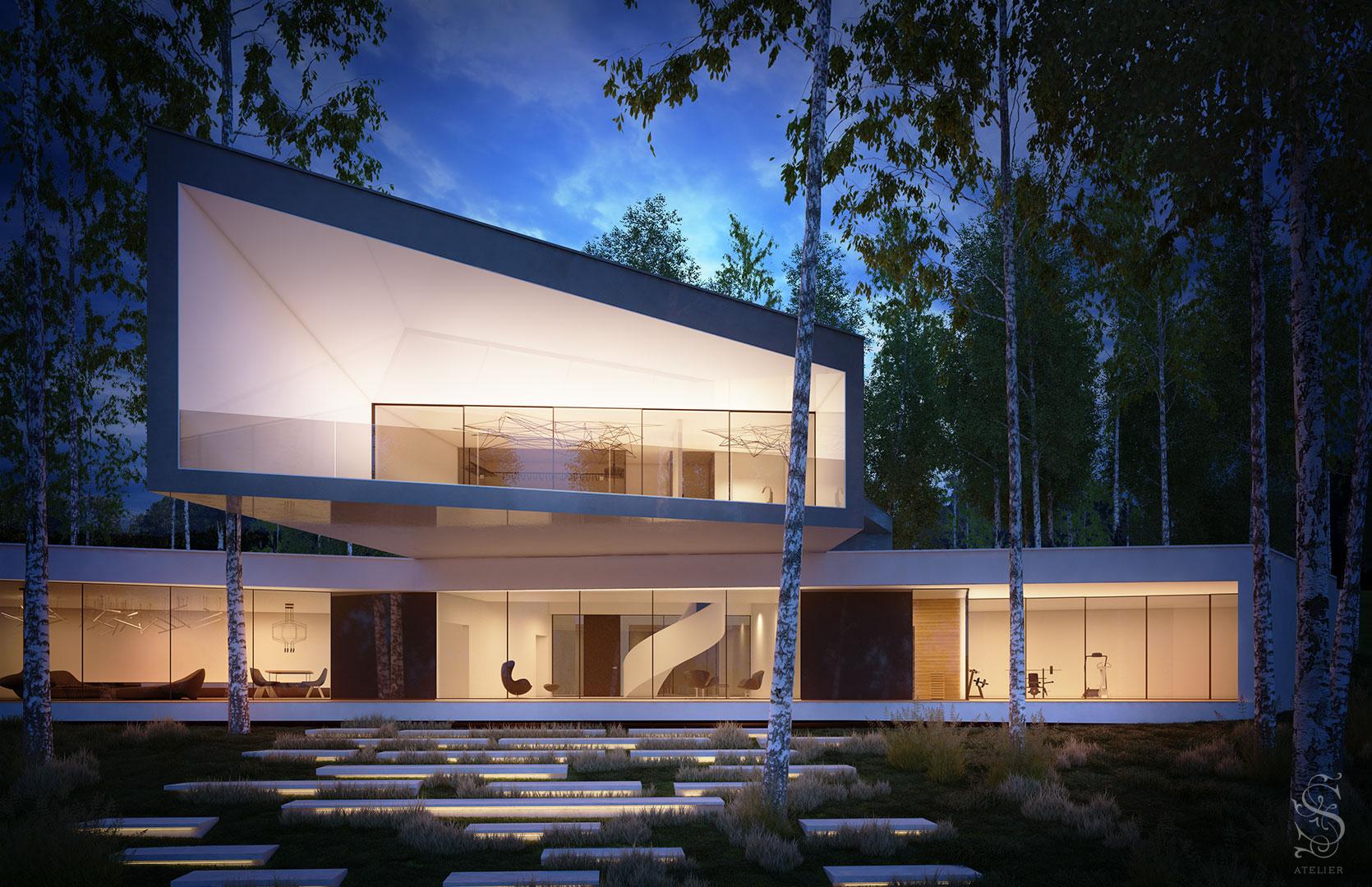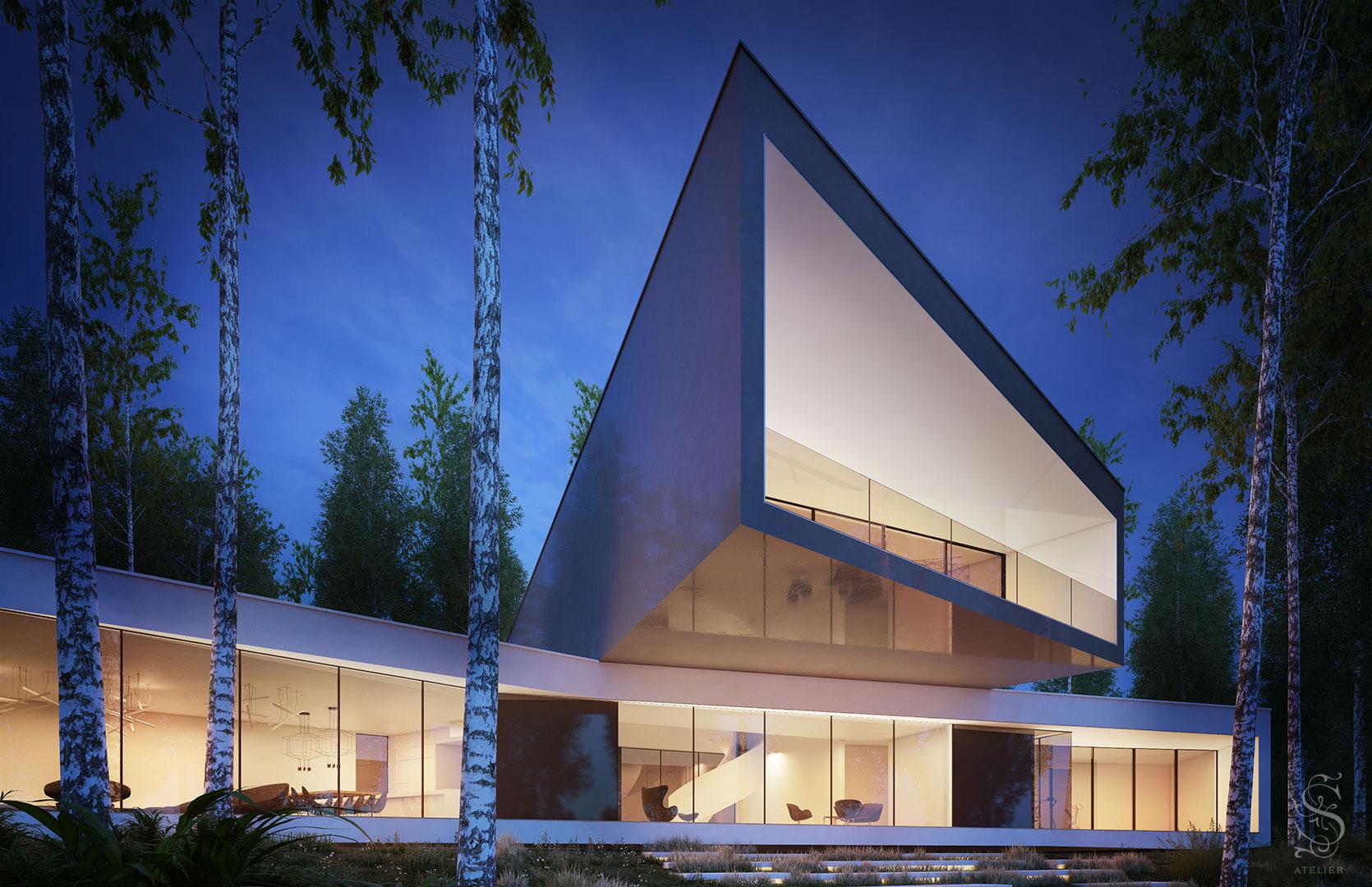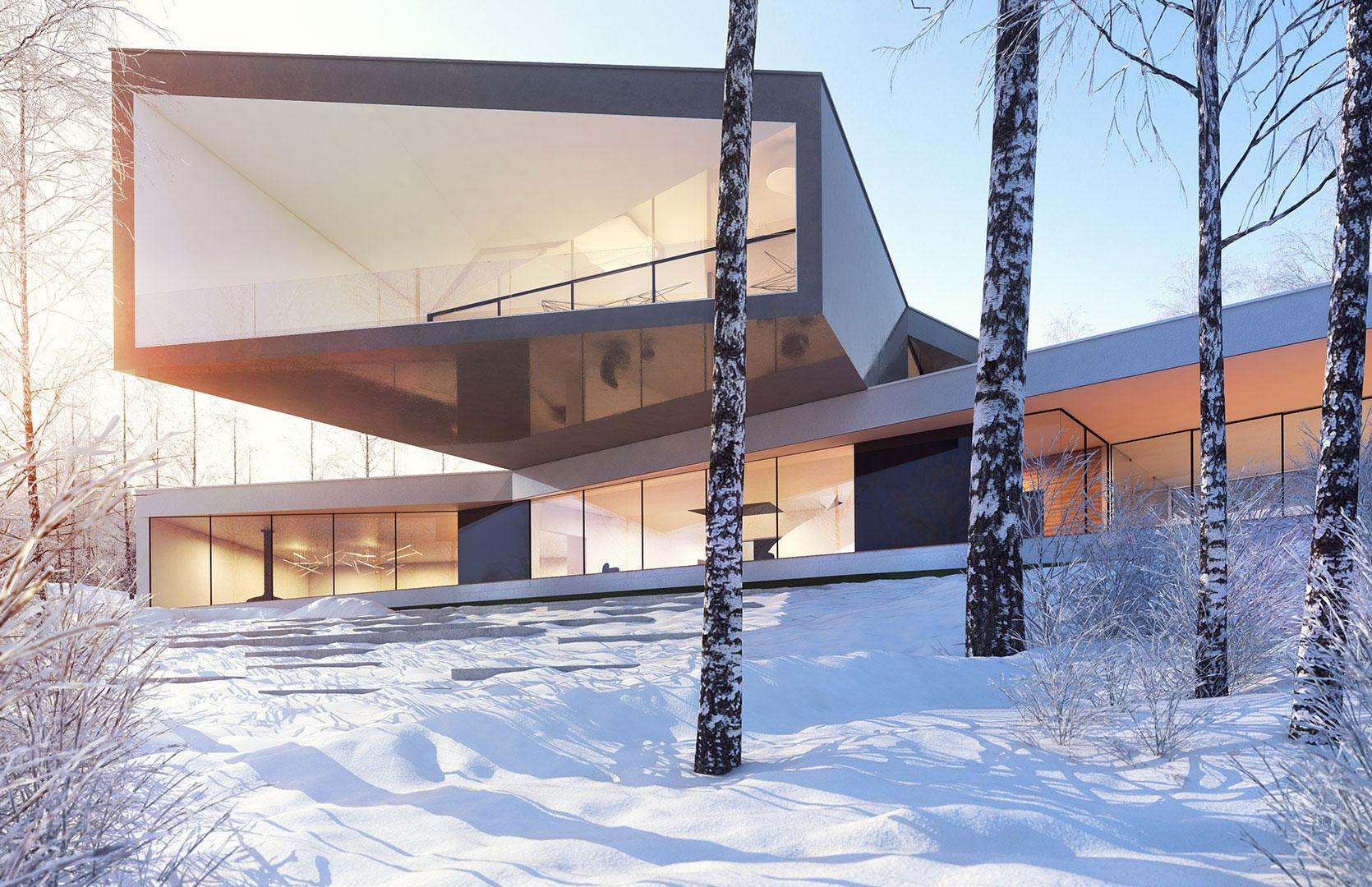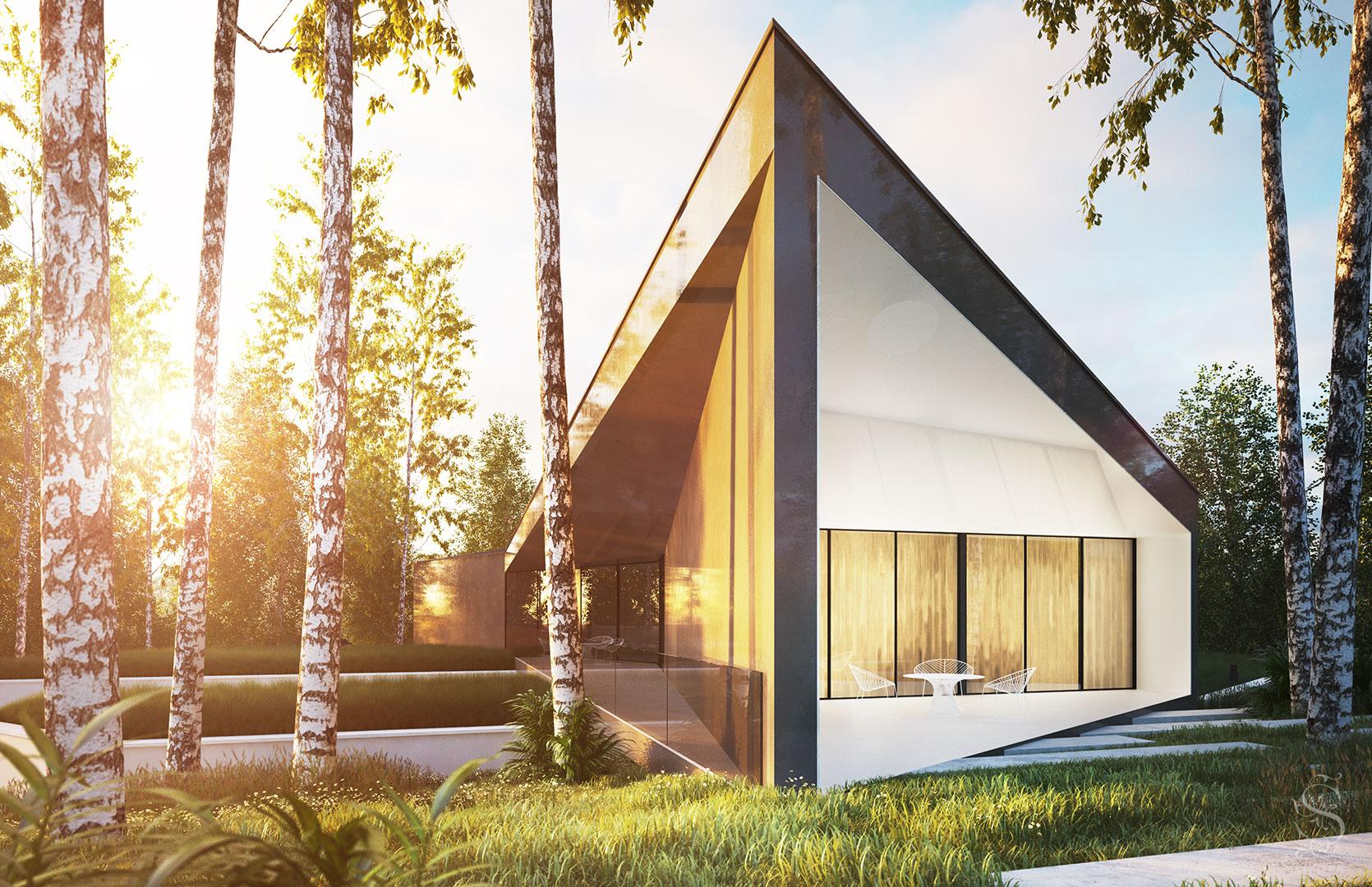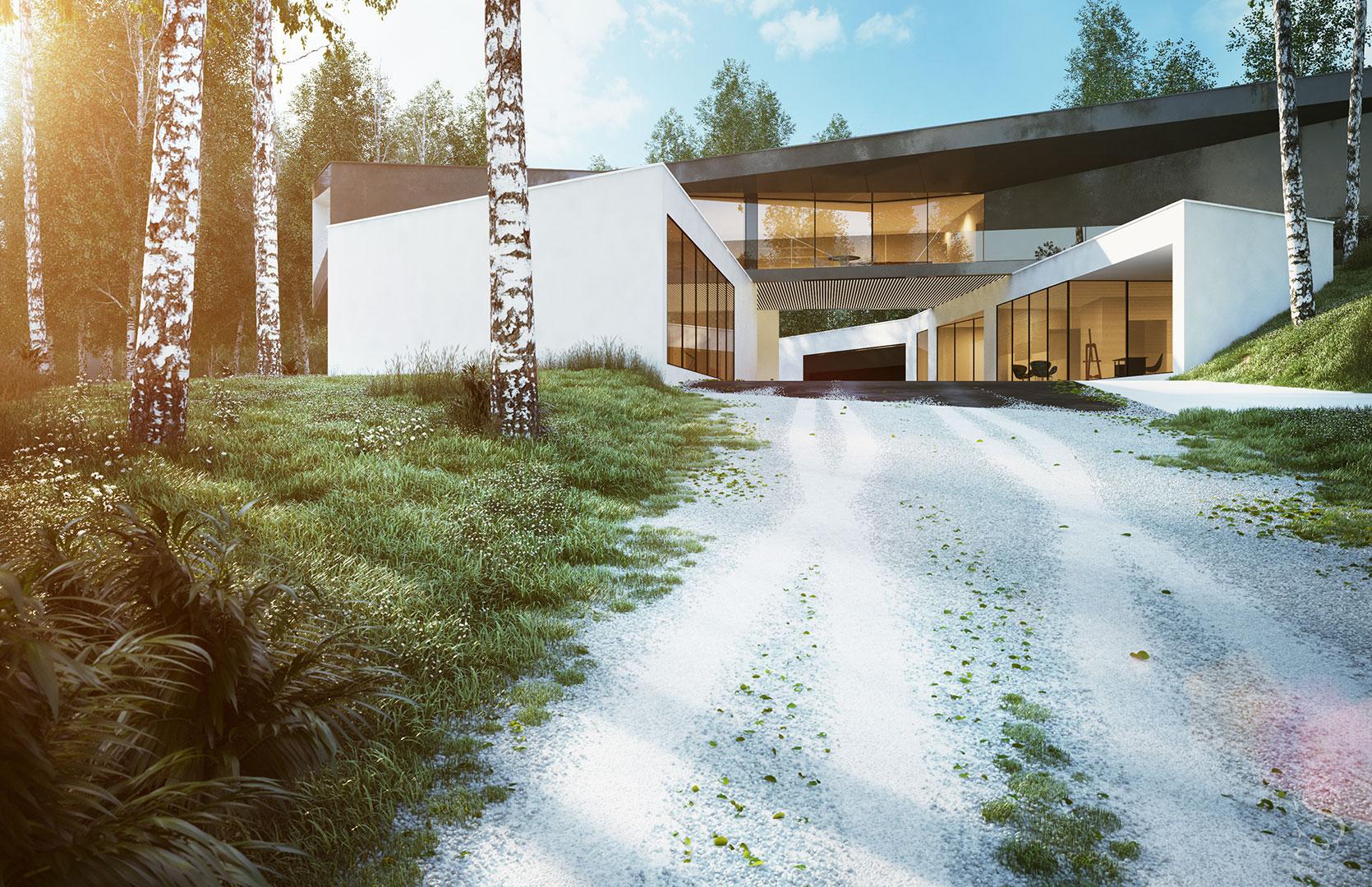 What technology was used to design it?
Because of the irregular forms, deconstructive walls and parts of the building being suspended – we recommend concrete structure.
The elevation is characterized by minimalism expressed in large glazed windows, modern joinery, plaster and glass lacquered in black. The unusual form is emphasized by contrasting color and material on the ground floor and other floors. Other unusual solutions are green flat roofs.
What materials were used in finishes?
After the cooperation with an investor is agreed upon, we begin the interior design process. It has to be aligned with family members' lifestyle and in accordance with their sense of beauty. In order to determine the kind of style, we use our previous developments – which help us determine elements that an investor will appreciate and which do not correspond with his taste at all.
The designer focused here on minimalist solutions dominated by white. It will be broken up by warm, wooden elements.
The finish for these exceptional spaces must be of modern nature – designer furniture and avant-garde lamps will give it a perfect touch. An ideal solution will be hanging fireplace which is still rarely found in Polish residences. It will create an alluring warm climate in a modern style.
What solutions have been introduced in the area surrounding the residence?
The investment will fit into both flat plot and a one located on a slope. Field stairs connecting terrace with the environment have been exopsed by a game of lights.
One important element is the way that goes across the whole design. Balconies, terraces and extensive glazed windows allow to appreciate the surrounding area. The natural driveway leads to the building which is surrounded by old wood. These solutions nicely contrast with the modern cube, giving it a little Scandinavian touch.