What does the residence hold?
The project consists of three parts which look like autonomous structures which are, however, joined by glass passageways. The heart of the residence is in its center which has a kitchen open to living room with a dining room, connected by a fireplace. The functional and spacious kitchen with an island and the dining area for 8 – 12 people gives a high comfort of use to household members. The living room has been opened on two floors and a mezzanine that we can see from this spot can include a library with a tea corner.
In the remaining two parts on the same floor, there is the main bedroom with a spacious bathroom and massive walk-in wardrobe and a cabinet designed by Gierszewski co. which is also a guest room with a bathroom.
Each of them has its own exit to a spacious terrace made by Baront brand from which it is easy to move to the garden.
On the first floor there are: the zone for the other household members and home SPA. In a residential area, there is a playroom which can be redesigned into home theater and three large size bedrooms. There is also a common bathroom and closet for outer clothing for the inhabitants of this part of the house.
The SPA includes an extensive fitness center, swimming pool, jacuzzi and sauna with an independent shower and toilet.
The garage has 3 parking spaces, storage racks for tools, ski room and space for bicycles.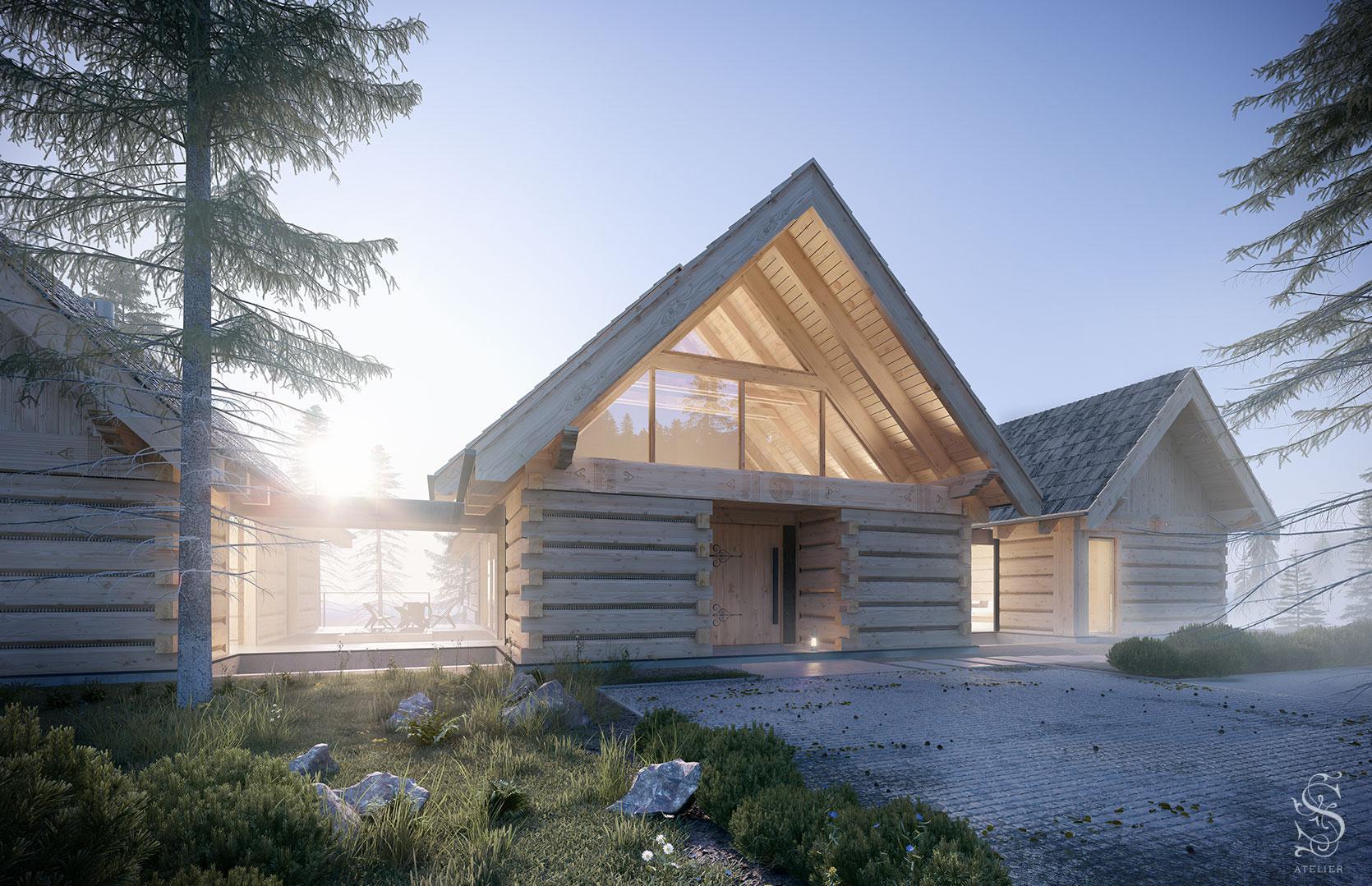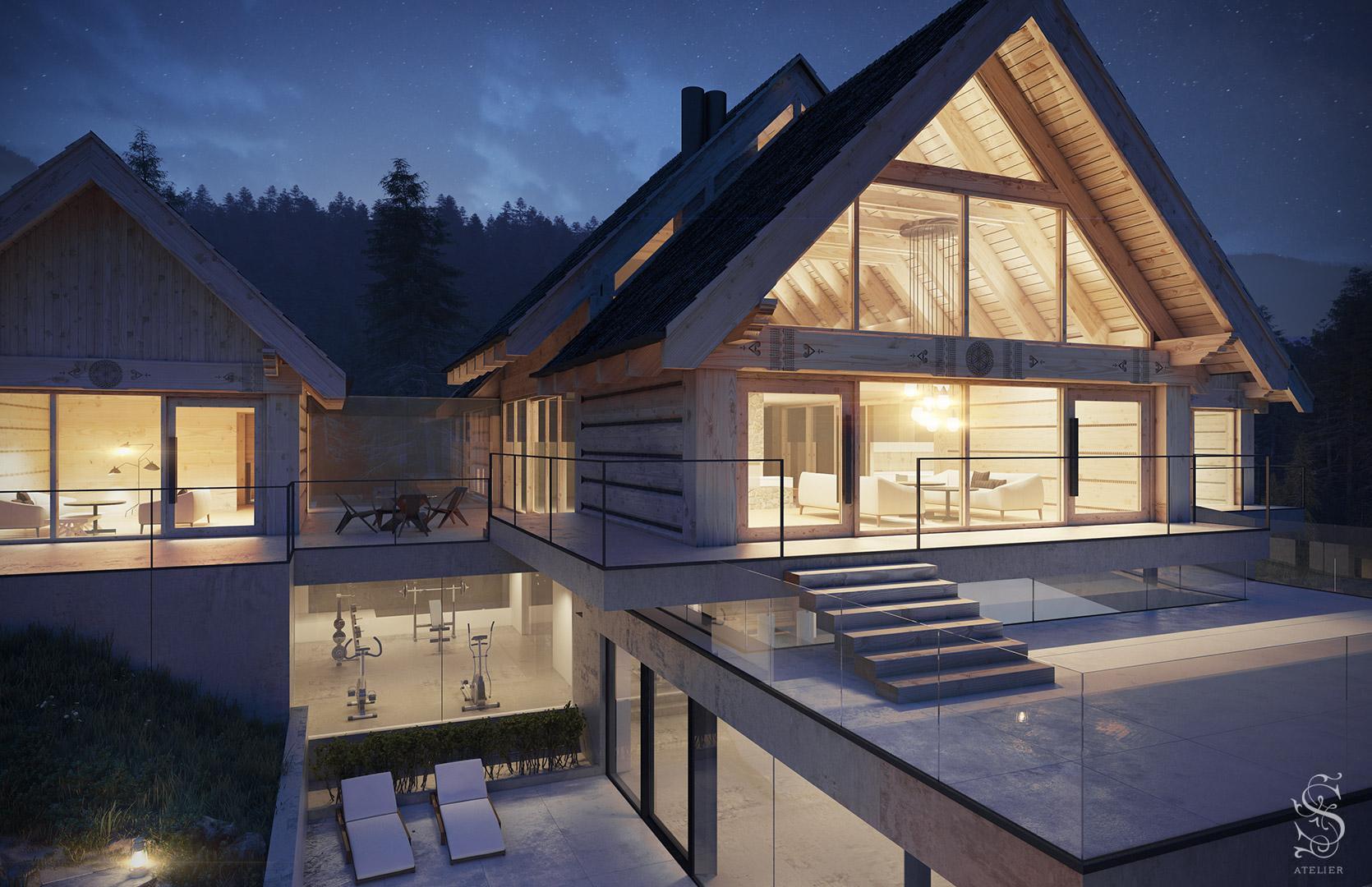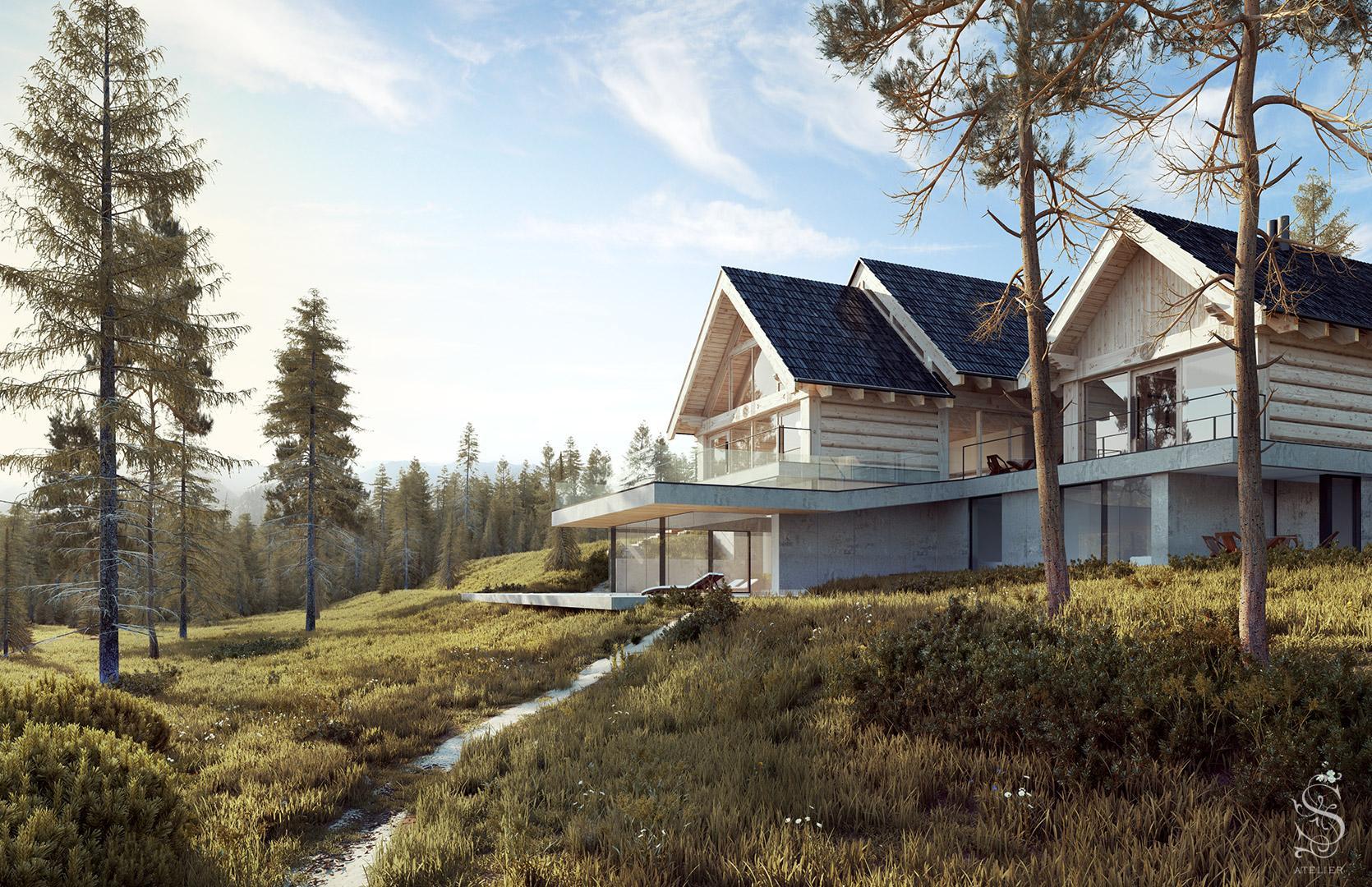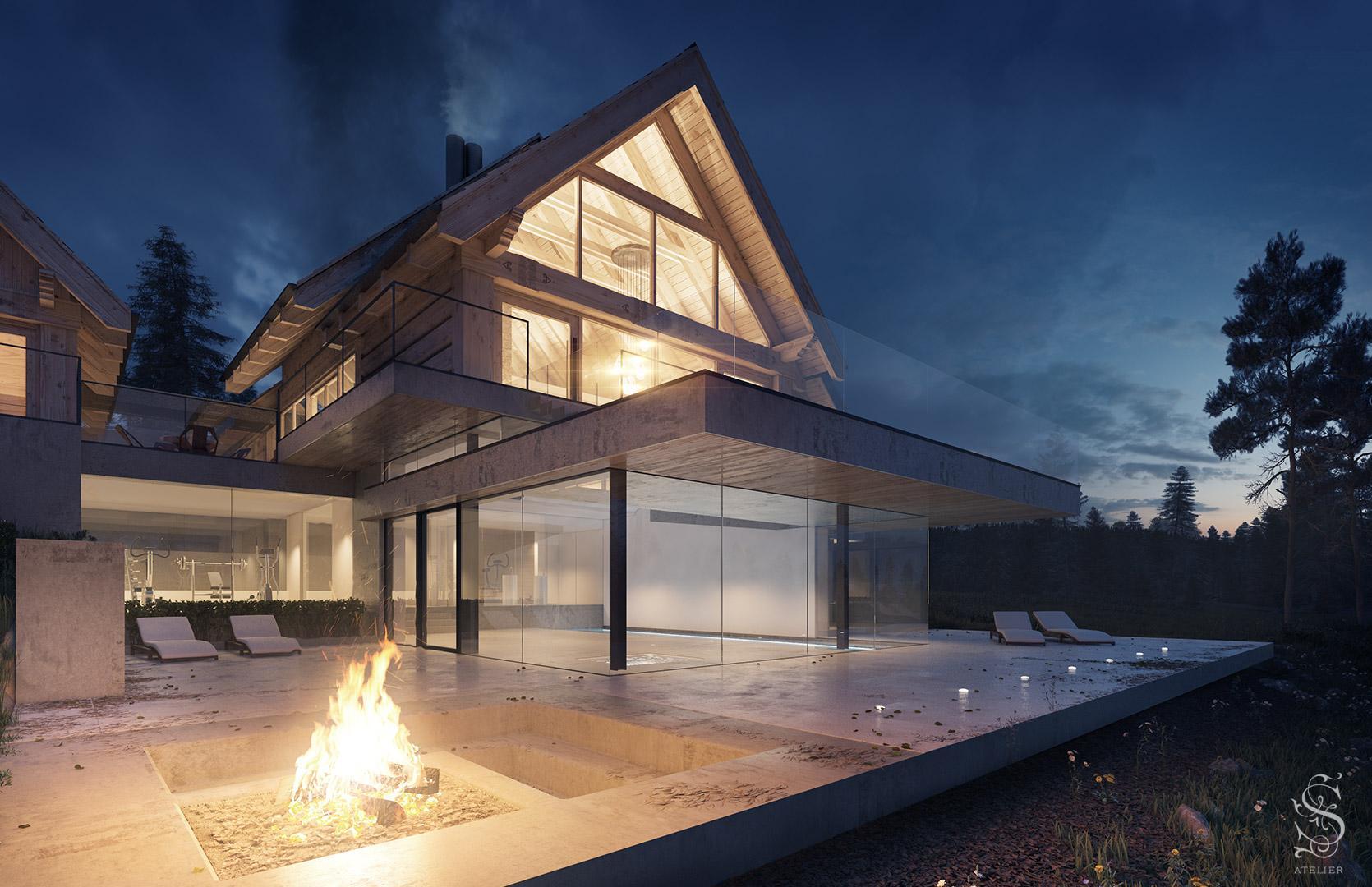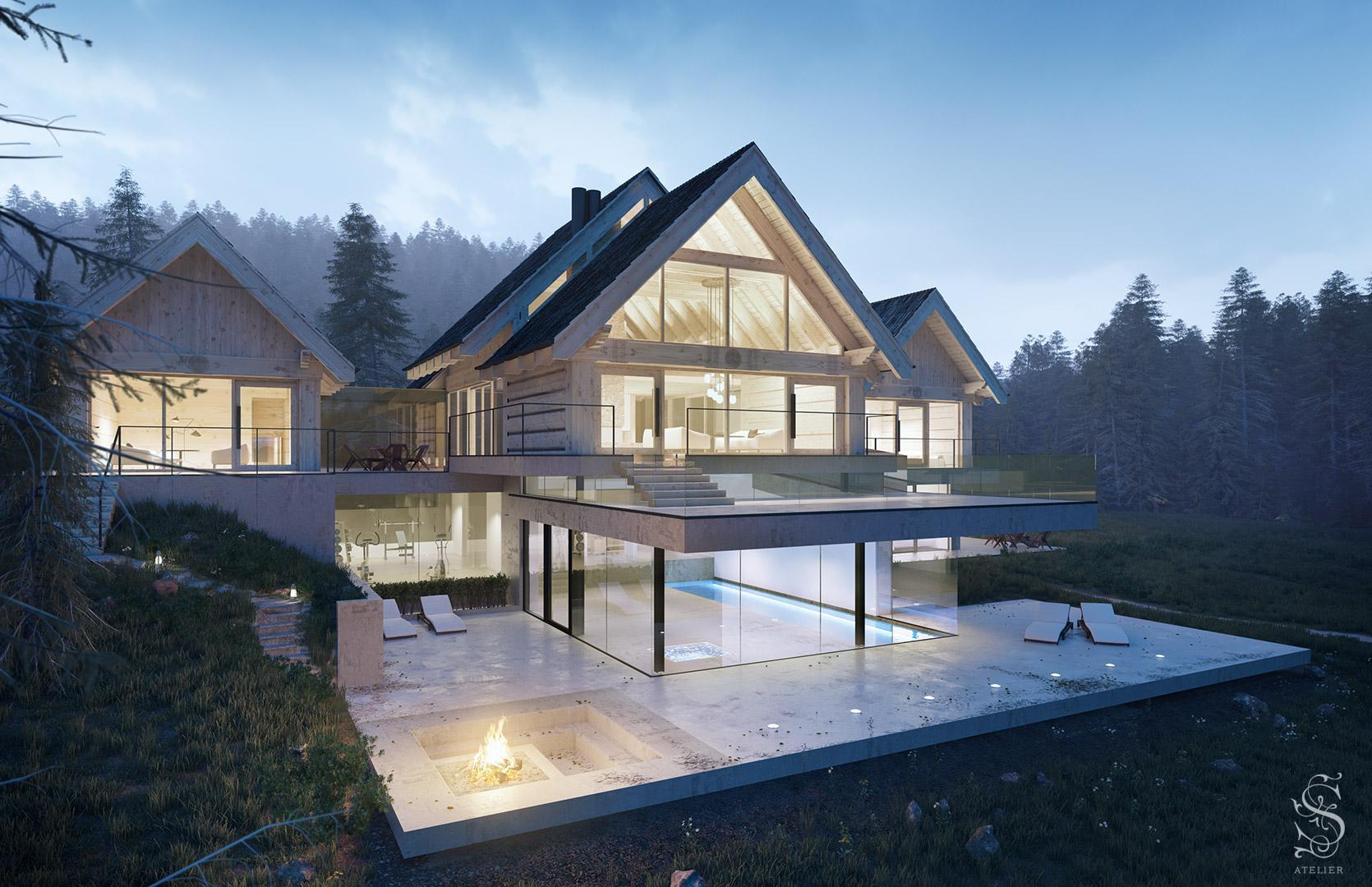 What technology was used to design it?
The house may be adapted to investor's requirements – it may be a steel structure or one made of brick with full or partial basement or without it.
Monochrome architectural concrete which the lower elevation has been made of and warmly toned wood for its upper part create an intriguing connection.
This elevation offers numerous components made of natural raw material – wood: construction beams, large sized rafters, boarding in end walls peak and carved beams with decorative features. The roof has been covered with traditional shingle.
The design offers the best materials available on the market which allows us to meet the highest quality and environment requirements.
What materials were used in finishes?
After the cooperation with an investor is agreed upon, we begin the interior design process. It has to be aligned with family members' lifestyle and in accordance with their sense of beauty. In order to determine the kind of style, we use our previous developments – which help us determine elements that an investor will appreciate and those which do not correspond with his taste at all.
The designer was in this case inspired by traditional hunting mansions and art nouveau mountain villas. The interior is characterised by bold combination of raw materials and textures – wood with glass and natural stone in many varieties. The mansion will look great with furniture made of raw wood decorated with folk motifs.
We can carry out the design and development process together with the investor or by ourselves, after the budget is earlier decided.
What solutions have been introduced in the area surrounding the residence?
The building is surrounded by panorama terraces made by Baront brand which link all parts of the investment together. The terraces may serve as: breakfasts zone, BBQ facility or for sunbathing.
The house should be surrounded by greenery characteristic of mountain environment. Each of the levels has convenient exit to the garden which has been maintained in the natural mountain climate. An ideal plot for this investment should have a slope exposed to the south with medium or steep slopes.