What does the residence hold?
The project consists of 3 floors and mezzanine. Its flagship feature is the dynamic form – irregular structure and unusual roof. This ensures that the building ideally adapts to natural environment – wavy shoreline of a lake or river and mountain areas.
Irregular floorplan allowed to create separate zones which has beneficial effect on the comfort of residents. The attic includes mezzanine with a library and a large office which can also be adapted  as home theater.
On the ground floor, there is a daily zone with a living room open on two floors and a restaurant joined with a representative foyer. Appropriately shaped spaces allow to expose hunting trophies or collection of weapons. Magnificent fireplace is perfect for winter evenings and a direct exit to terrace outside will prove to be useful in the summer.
Another wing of the building has been separated from the daily zone by differing flooring levels. It includes a comfortable kitchen with a pantry and night zone with 4 bedrooms with independent wardrobes and bathrooms.
On floor 1, there is an additional kitchenette (the so-called dirty kitchen) with a dining room for 16 people. This is also a place for a spacious games room (nearly 90 m2) and the space to relax on the terrace outside.
On the second wing of floor -1 there is a swimming pool with saunas, jacuzzi and gym. The designer proposed an unusual solution here – internal and external swimming pools joined together. Glazed wall of outer swimming pool allows you to admire the beauty of nature that surrounds your home and will provide a sense of luxury.
In this section there is also a garage with 3 car spaces and space for sports equipment and a small workshop.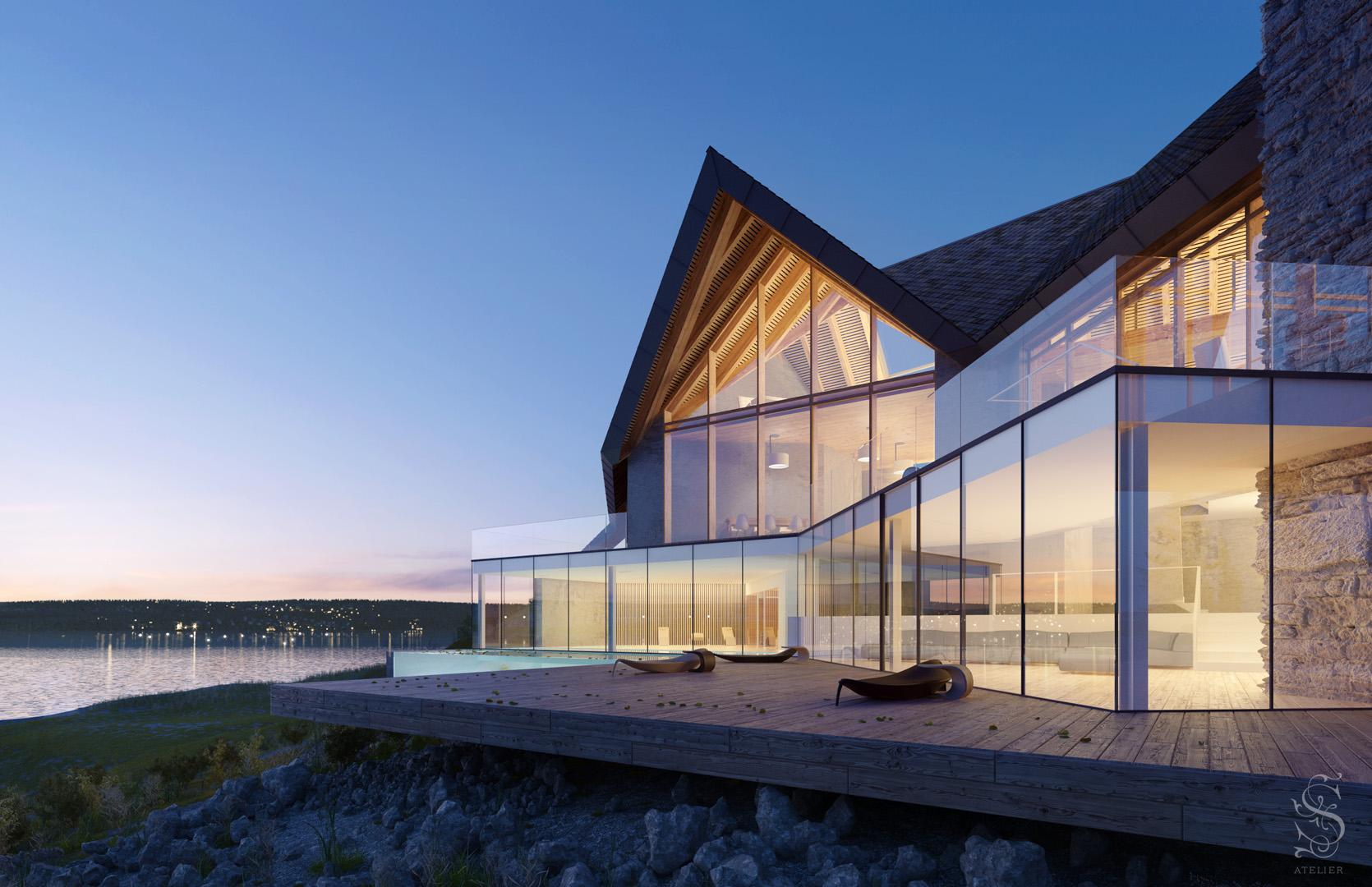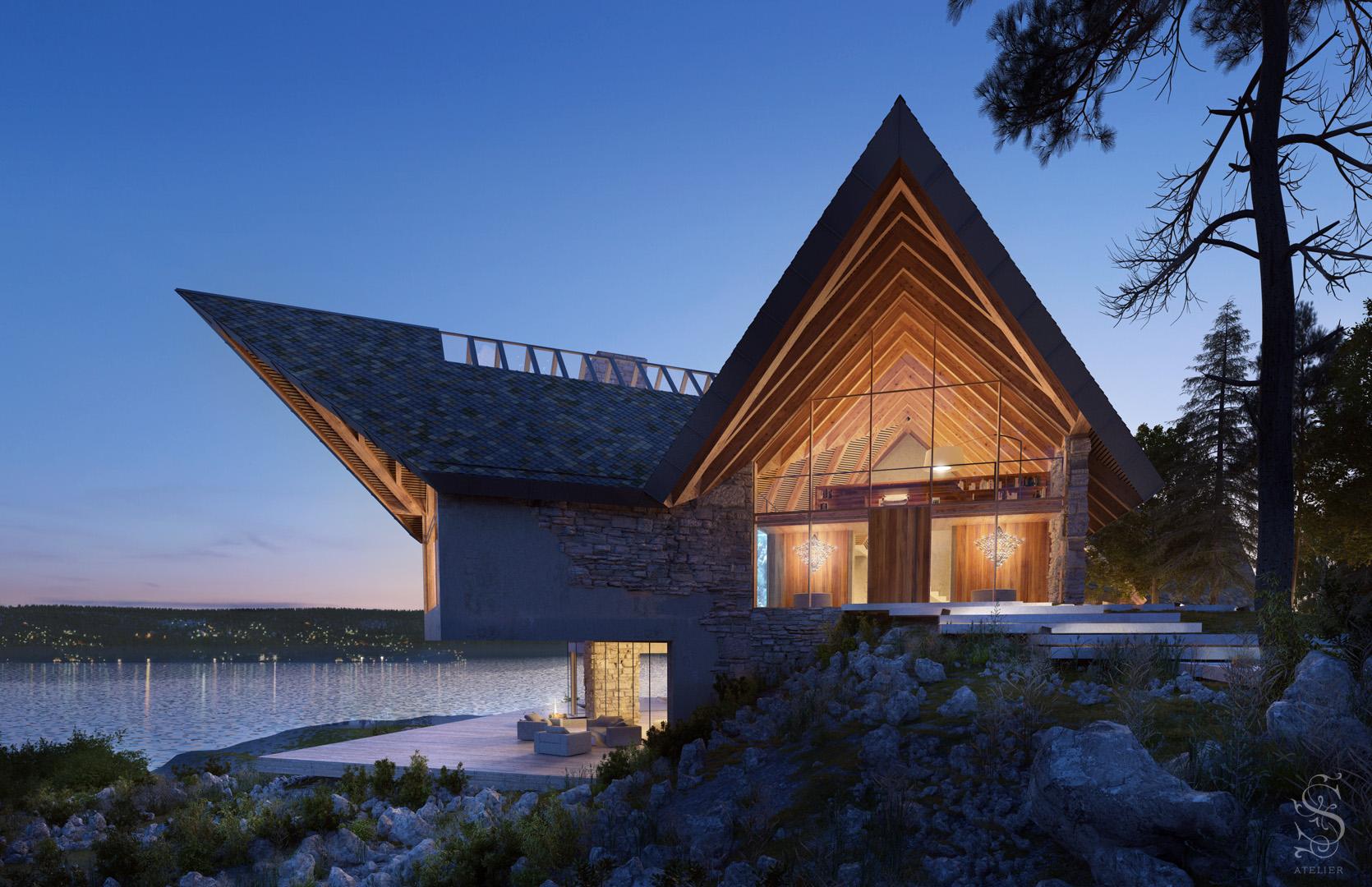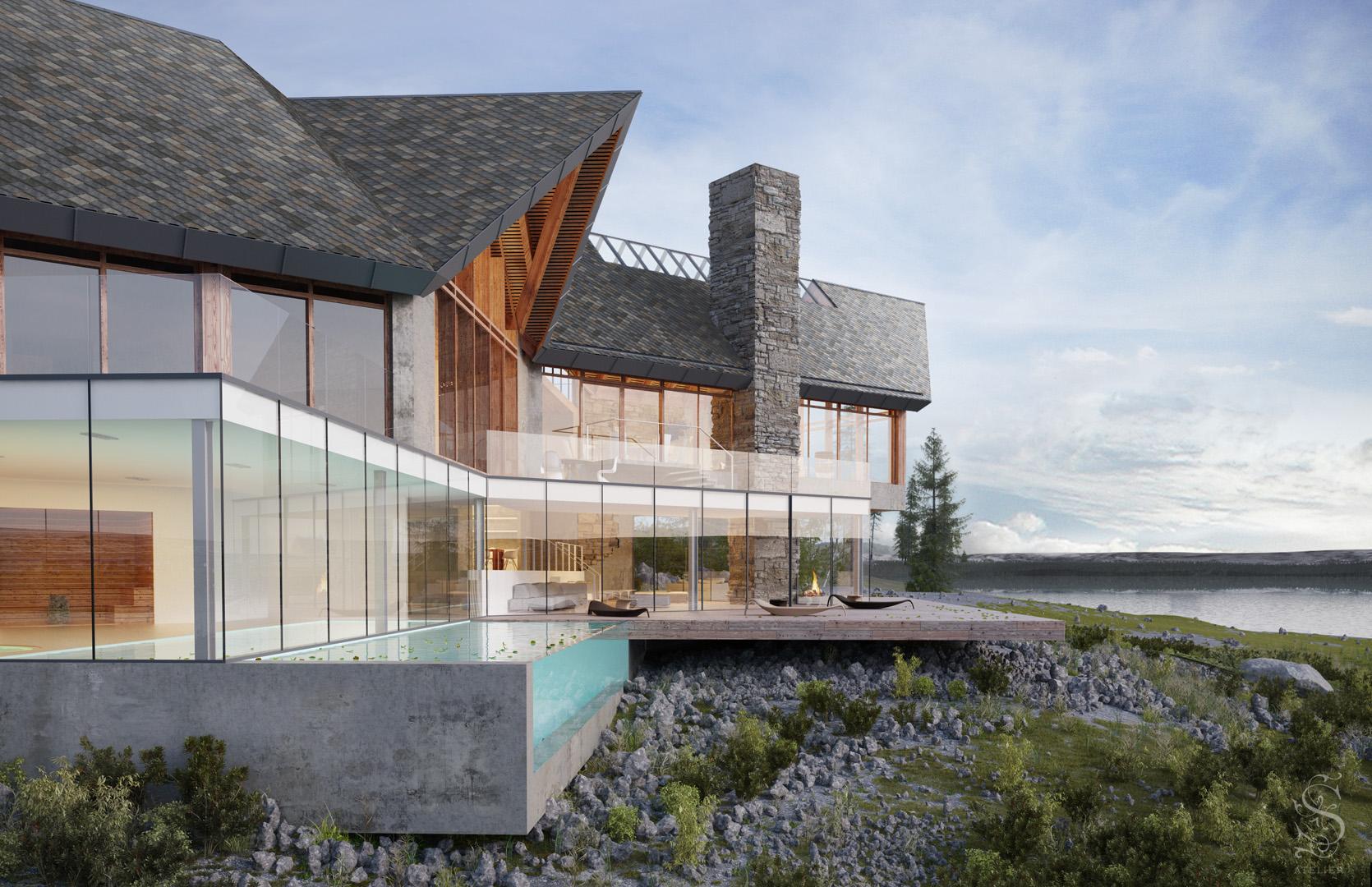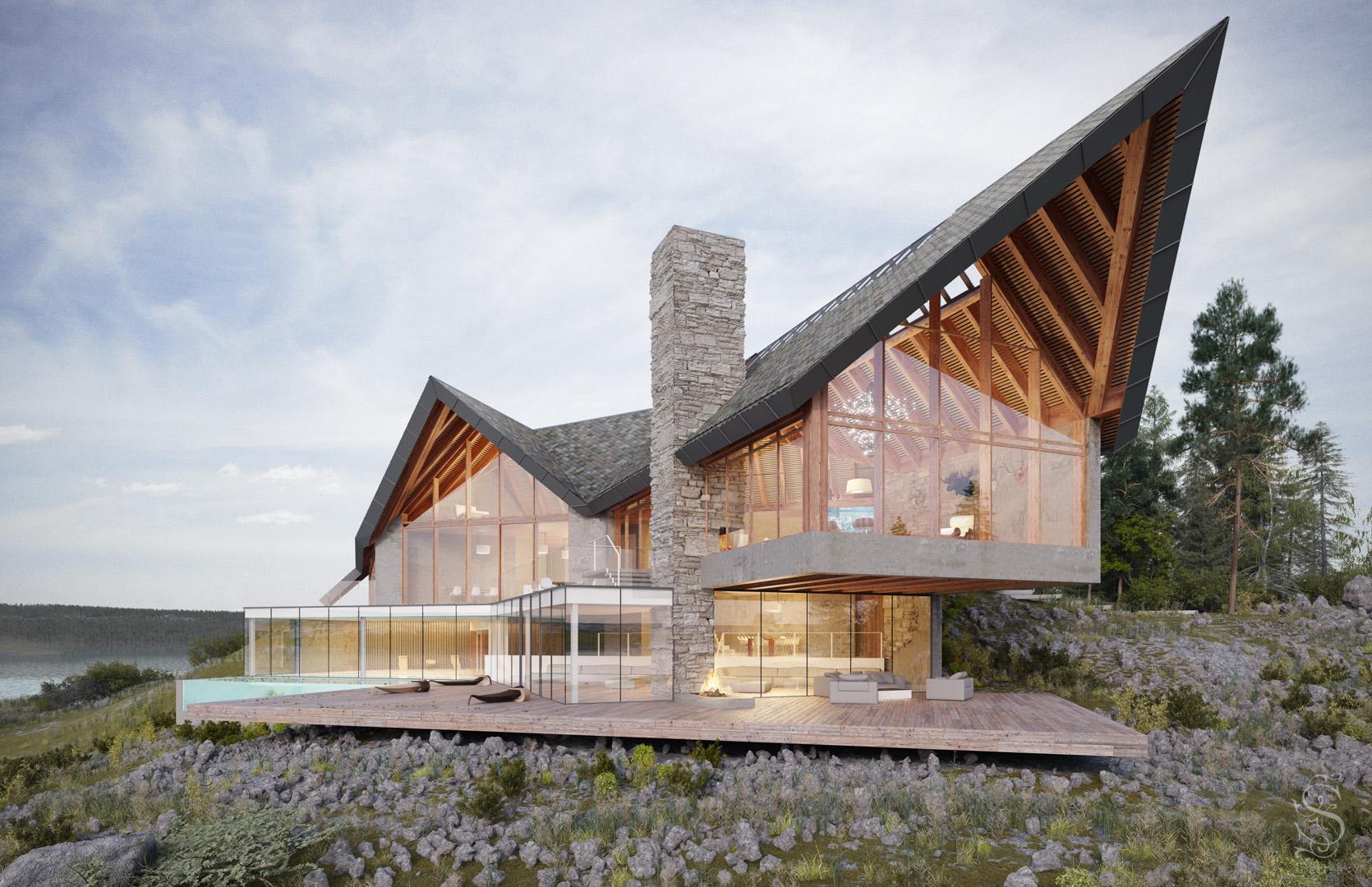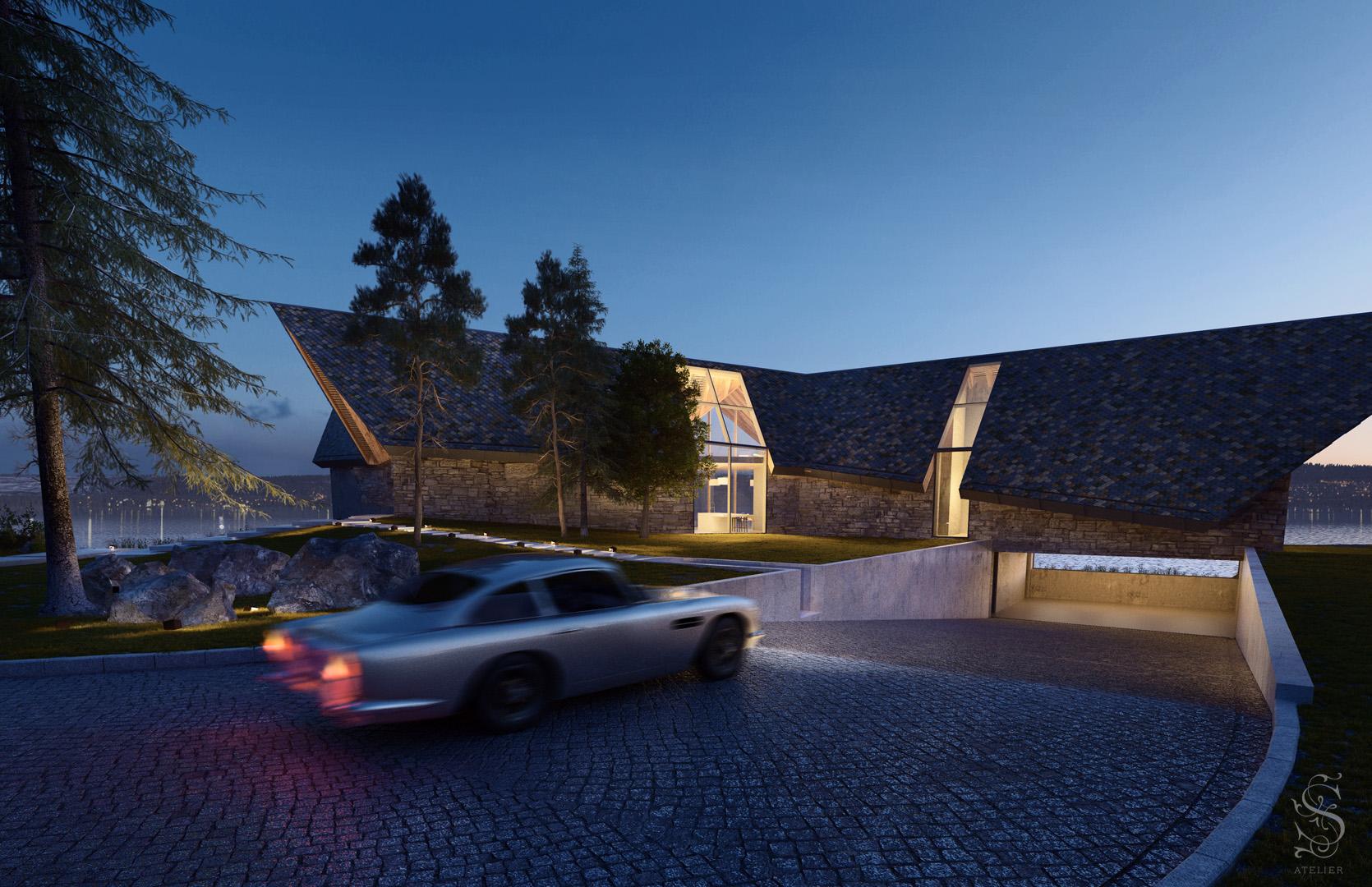 What technology was used to design it?
The building was designed in concrete and steel structure. The roof has a visible wooden design with laminated wood and slate roof covering.
The elevation includes both traditional and precious materials, such as stone, slate and wood, with modern elements: large glazed windows and concrete.
What materials were used in finishes?
After the cooperation with an investor is agreed upon, we begin the interior design process. It has to be aligned with family members' lifestyle and in accordance with their sense of beauty. In order to determine the kind of style, we use our previous developments – which help us determine elements that an investor will appreciate and which do not correspond with his taste at all.
Stone and wood are of the biggest importance in shaping the nature of the interior. Counterpoint here are white, minimalist and concrete walls which give a light touch to the surrounding space. Ascetic, white walls also allow you to display collections of weapons and of works of art that the owners possess.
The interior will work well with both simple, minimalist furniture and materials, as well as the rustic, heavy wooden forms combined with leather upholstery and magnificent chandeliers.
What solutions have been introduced in the area surrounding the residence?
The surrounding of the residence may remain natural. When designing the building, we wanted to respect the landscape. The idea was to harmoniously combine natural landscape with geometric form of the building.
An important element that shapes the whole building is the suspended terrace which makes the impression like the building was suspended above the ground.