What does the residence hold?
The building with a gabled roof and minimalist finish looks modern and elegant.
The residence is energy-efficient because it has been enclosed in a compact and coherent structure. The location of glazing supports optimal solar exposure and reduces heat loss. The deciduous tree planted inside serves not only decorative role. On warm days it will protect against intense heat providing a shadow, while in winter it will attract sunlight which will help to heat the rooms.
The greenery has been "invited" inside to ensure that family members have maximum contact with nature. The "inner garden", which has been developed around communication passage connecting different parts of the building, creates an unusual microclimate adding charm to the whole building.
The most significant element of the interior is Baront stairway which with its dynamic sculpture form give character to the space. An open space ground floor includes a living room with fireplace, office, bathroom available for guests, a comfortable kitchen and dining-room for 14-16 people.
The lower level includes technical facilities with a garage for three cars and a recreation area with SPA and gym. This level leads to the garden which was contrived as an area to relax and ease the stress away.
The attic serves as private part of the house – it includes a master bedroom with spacious walk-in wardrobe and a bathroom, 2 bedrooms for children with shared bathroom, playroom and a library.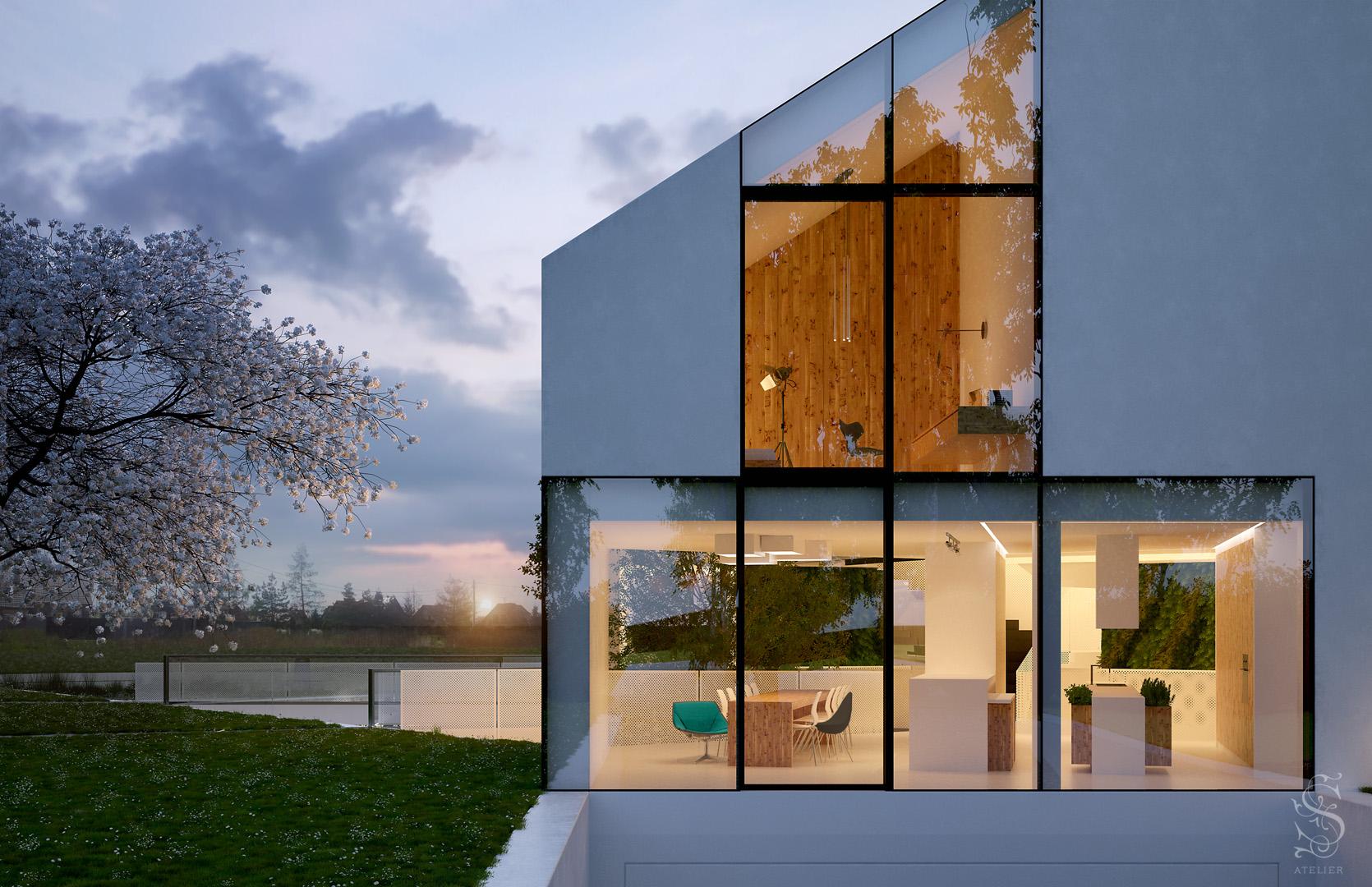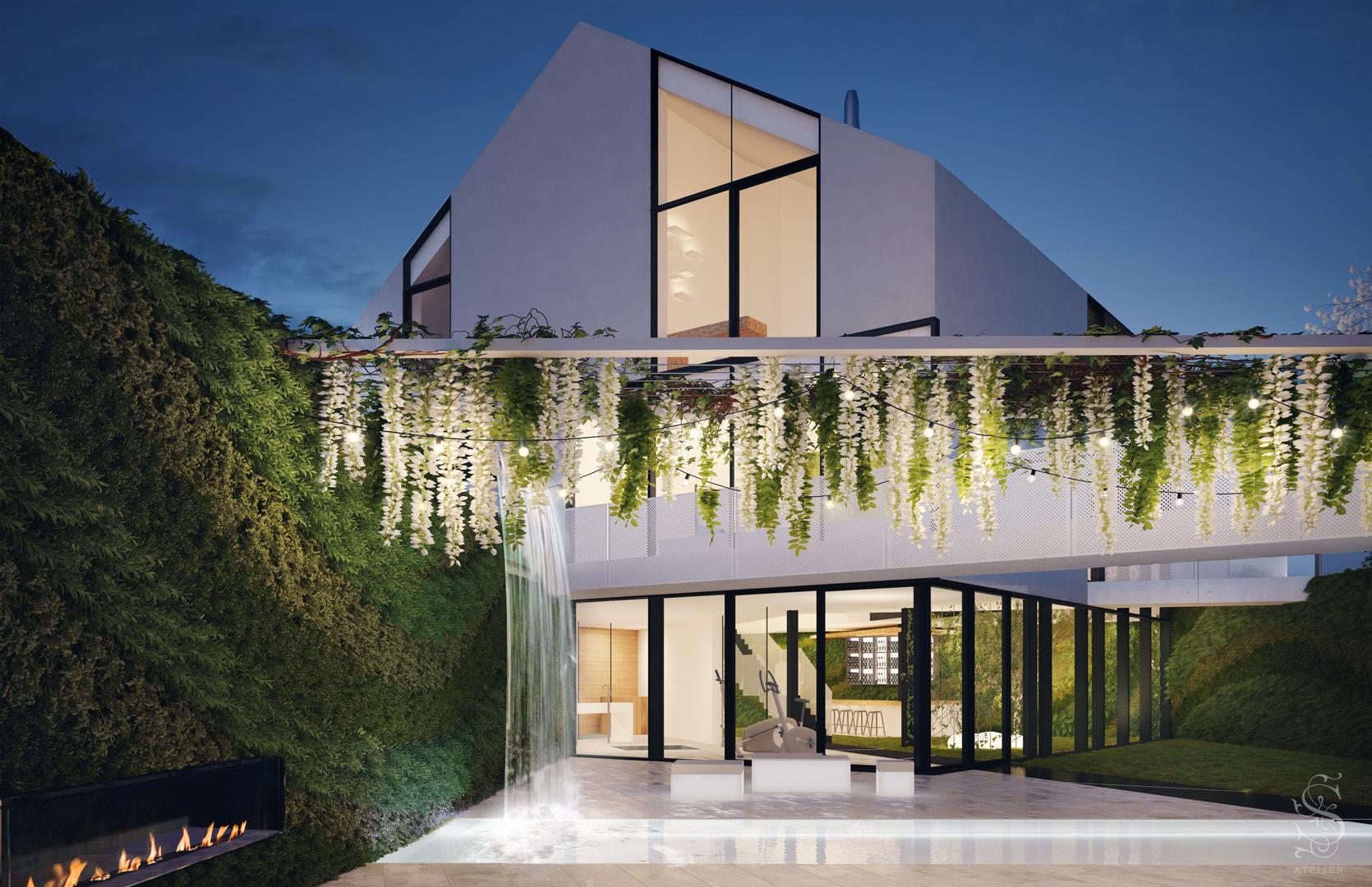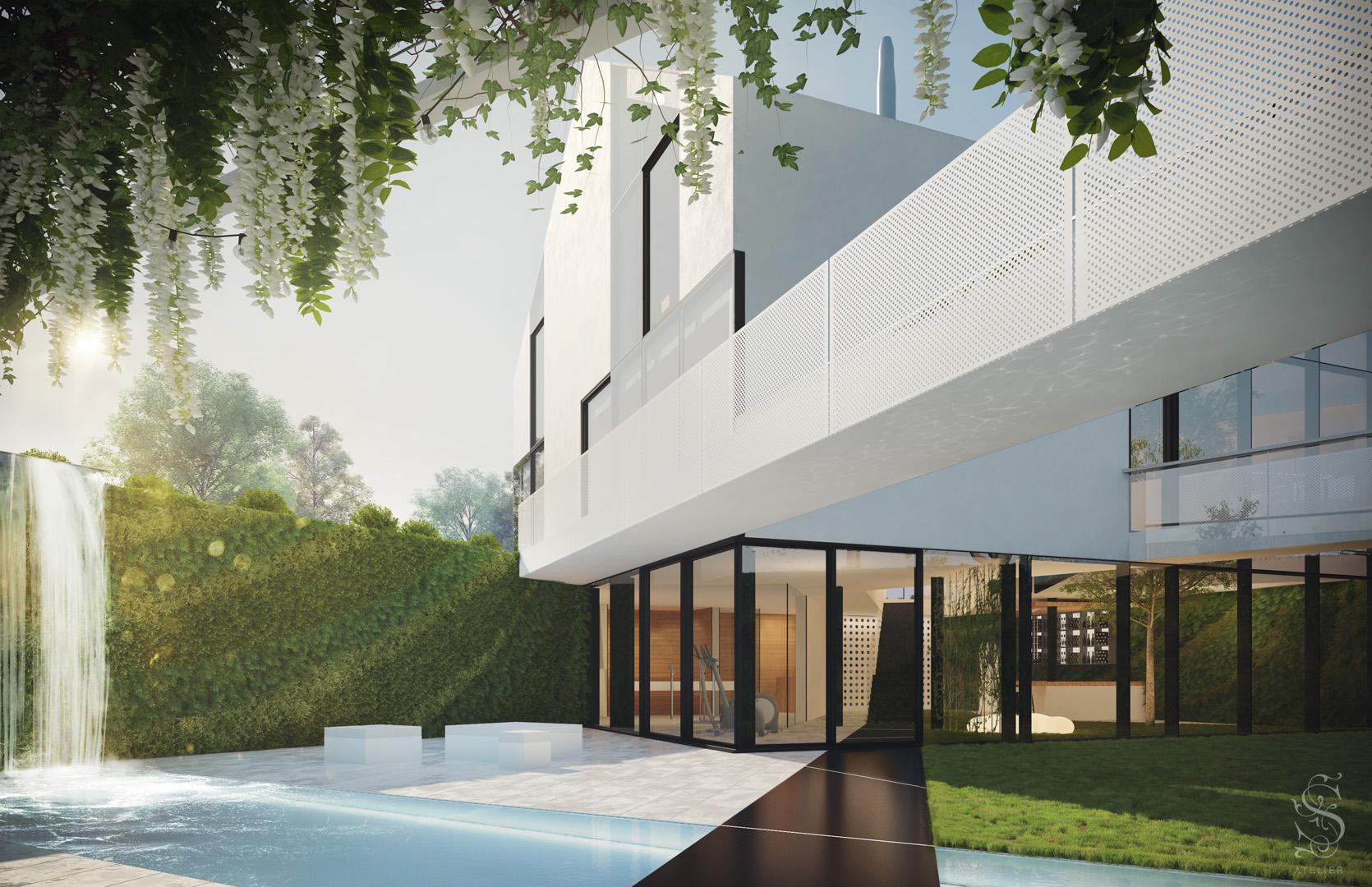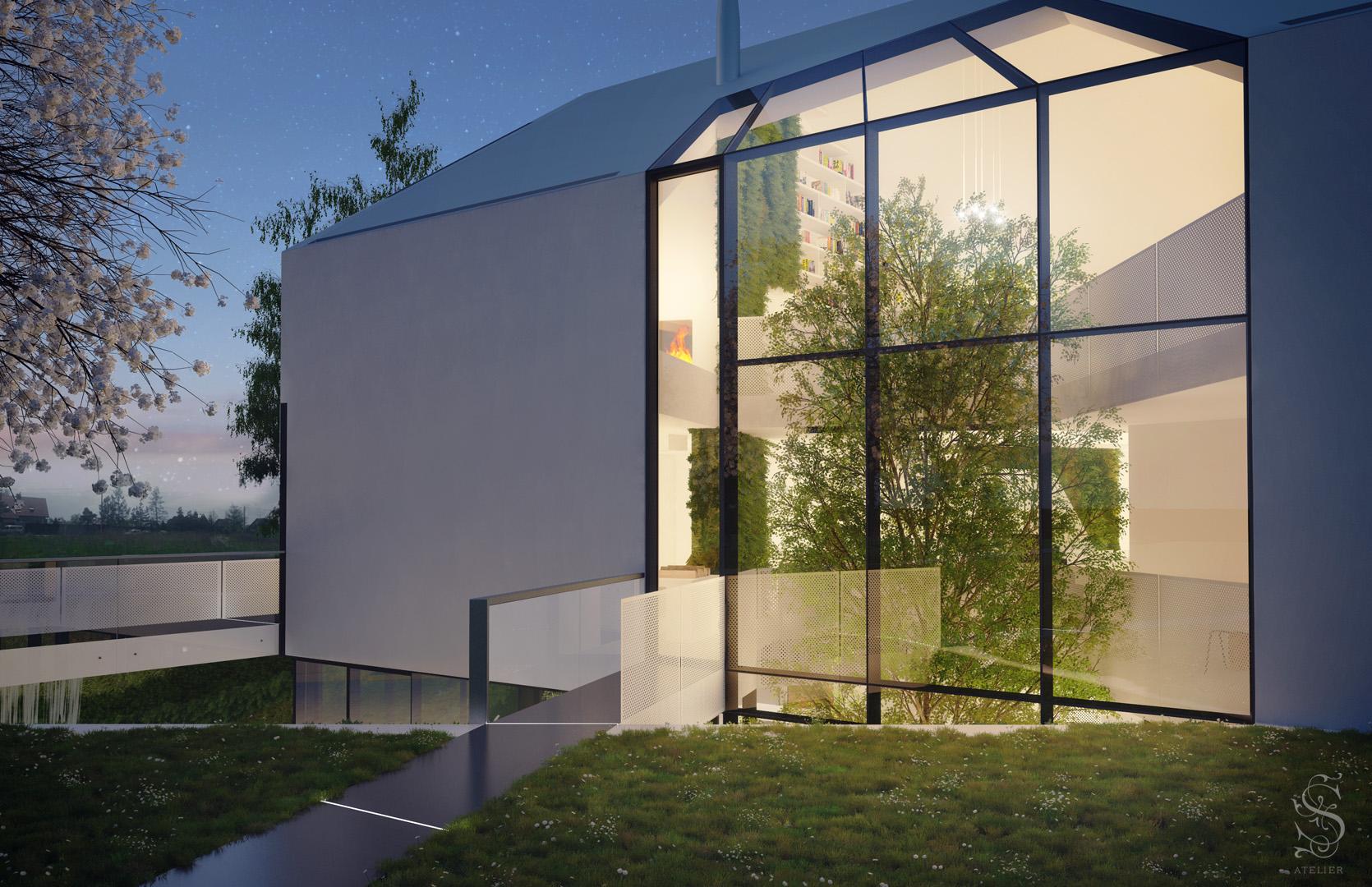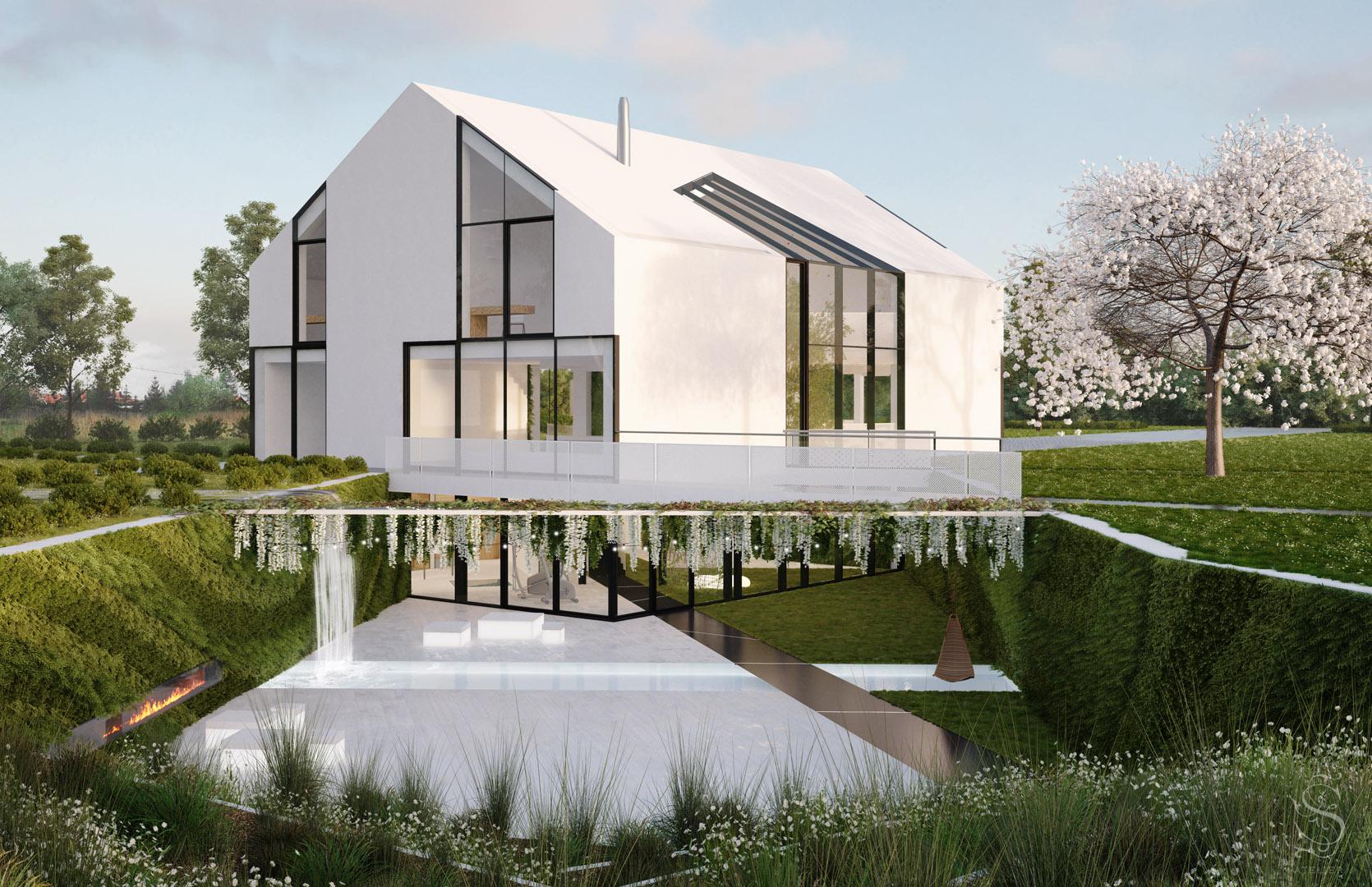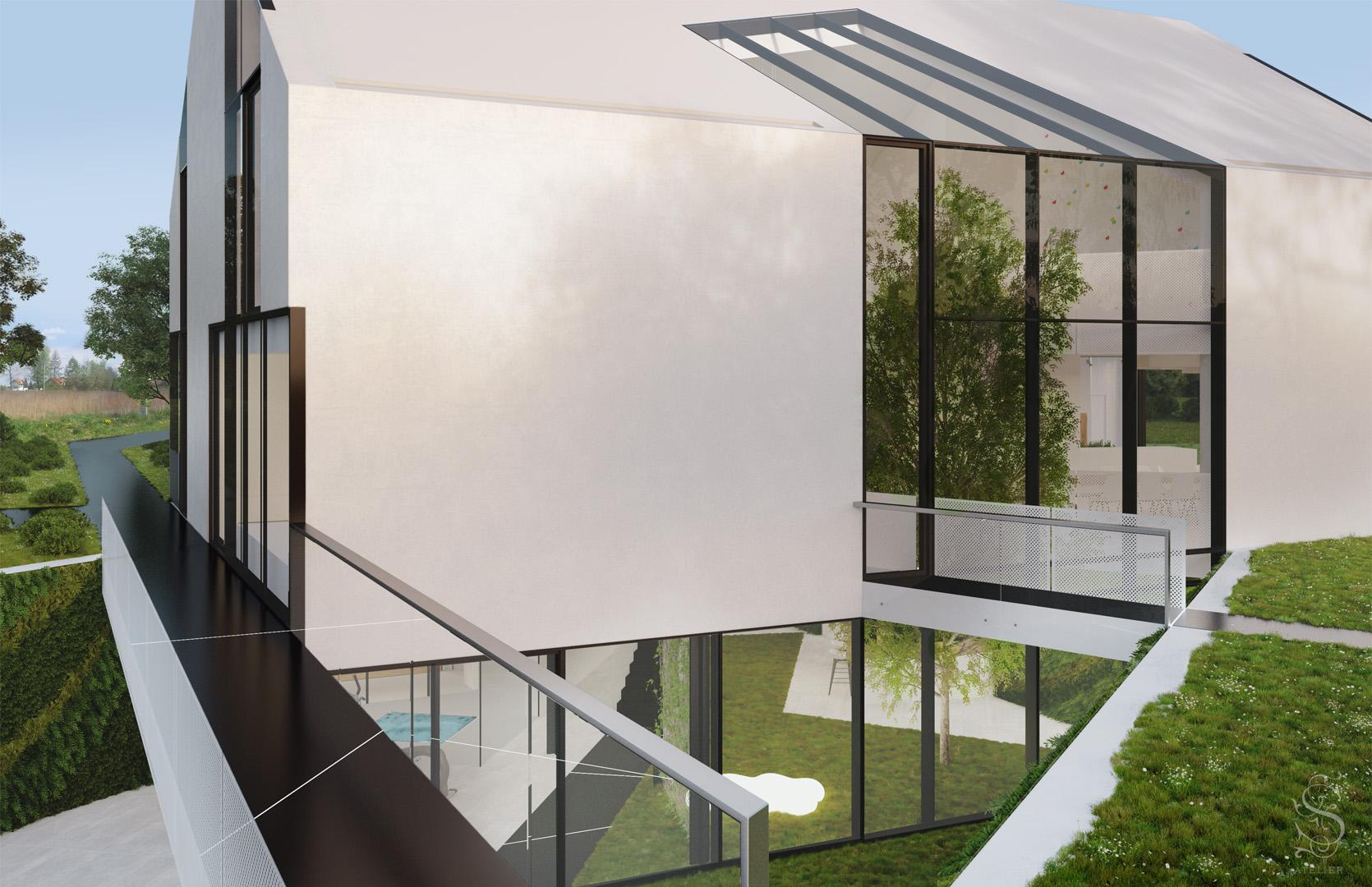 What technology was used to design it?
The building was designed in concrete and steel structure.
The elevation is characterized by simplicity and minimalism – concrete colored in white contrasts with dark window joinery. The same technology was used to design the roof.
The distinctive features of the building include large glazed windows, modern details and ultra modern materials, such as concrete, perforated plate or green walls .
Communication passages have been accentuated by Baront dark flooring contrasted with white cleanly formed walls.
What materials were used in finishes?
After the cooperation with an investor is agreed upon, we begin the interior design process. It has to be aligned with family members' lifestyle and in accordance with their sense of beauty. In order to determine the kind of style, we use our previous developments – which help us determine elements that an investor will appreciate and which do not correspond with his taste at all.
The structure of the investment induces the designer to find inspiration in the white, modern forms. It will go well with white plasters and white stone, and epoxy or stone flooring. The wood will warm the climate. Live vegetation should play a large part in shaping this interior.
It will go well with both simple, minimalist furniture and materials, as well as more complex, designer forms.
What solutions have been introduced in the area surrounding the residence?
The garden available from level -1 includes a place to meet and relax by the hearth, cascade, a pool, pergola with climbing vines. Green walls and grass may extend the inner garden.
The ground floor is combined with the garden by green terraces and field stairs. This garden is modern, but inviting and warm.
An ideal location for this investment is a flat plot or with a slight slope.